Pat McGrew and Ryan McAbee take an in-depth look at Canon's PRISMA tools for data analysis and accounting, which monitor the operational pulse and direction of your operation. These tools can help staff take quick and decisive action to keep production running smoothly and make better print production decisions.
This article is sponsored by Canon as part of WhatTheyThink's Print Software Product Spotlight series. In preparing this article, the editors of WhatTheyThink Print Software Section conducted original research on Canon's PRISMA tools. This Product Spotlight outlines what publishers believe are the strengths of the product suite in the market. Canon checked the final article for accuracy, but had no editorial control over the content.
Wearable technologies have exploded in popularity in recent years. The growth is no surprise since smartwatches have matured beyond their role of extending your smartphone into a health monitoring tool. Today's smartwatches provide real-time user health information in a small, easy-to-use device.
Portable devices draw the user's attention to useful information. By taking the pulse of your health, from heart rate to number of steps taken daily, you can make better health decisions. In the past, measuring your heart rate and rhythms, physical activity, sleep patterns, and other lifestyle information would have required different devices, expertise to understand them, and time to manage them. Tools that make data accessible and understandable have a similar impact in the printing industry.
How do you take the pulse of your printing operations? Shop supervisors and operators need to be aware of schedules, work in progress, equipment status, material consumption, and other operational metrics. Shop floor data can be collected and connected to an MIS printing solution, but can anyone see this information in real time to make spontaneous adjustments and meet deadlines or customer requests? In many cases, the data is not accessible to the very people who need to react to the information to meet delivery deadlines. The system may be too complex to train operators, require expensive licenses that limit the number of users, or lack options to provide a customizable dashboard.
Canon's PRISMAlytics Dashboard is like a smartwatch to keep the pulse of your print operation. It works with PRISMAsync-connected printing equipment such as Canon's imagePRESS and varioPRINT devices. The solution is part of Canon's suite of cloud applications accessible via a web browser connection from a laptop, tablet or smartphone. The PRISMAlytics dashboard gives supervisors and shop floor operators a single view of connected equipment. This includes viewing detailed printer usage and productivity data, consumables usage on supported presses, calibration history, and non-productive and maintenance times. Users can easily select specific time periods for analysis and comparisons.
Since this information is transmitted by the equipment every 15 minutes, operators and supervisors can focus on production rather than data collection. Dashboards are particularly useful for analyzing the impact of changes in the production environment. The impact of a paper change from your supplier, for example, can be monitored to see if it produces more jams or other issues. Performance levels and printer usage can be monitored over time to understand baseline productivity levels and identify trends. Finally, the data can be exported as a CSV file for further analysis and reporting.
Factories and other printing environments that need printer usage data for billing or chargeback purposes can benefit from another application called PRISMAlytics Accounting. The solution is easy to configure and can capture accurate accounting information on tasks, customers, or departments to allocate costs to the right customer or budget holder. Like PRISMAlytics Dashboard, information can be exported as a CSV file for further analysis or reporting. The CSV file can then be imported into your favorite accounting software for invoicing. More extensive reporting capabilities are available as options, such as data by user or account ID and media and inkjet consumption.
PRISMAlytics accounting reports can also be a valuable tool for account managers and customer support representatives, providing access to detailed information when responding to billing or usage inquiries. The ability to capture detailed accounting records in near real time for import into your billing software reduces manual errors and can help speed up accounts payable and receivable cycles.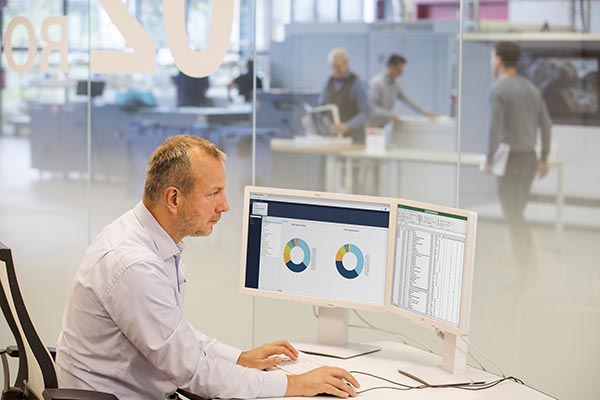 Just as the smartwatch brings information awareness to its user to make better health decisions, the PRISMAlytics collection of tools for data analysis and accounting monitors the operational pulse and direction of your health operation. 'impression. The awareness these tools provide in near real-time can help your staff take quick, decisive action to keep production running smoothly and make better print production decisions.
Visit the WhatTheyThink product spotlight to review the PRISMAprepare Go solution. PRISMAprepare Go is a pre-production workflow solution that allows customers to easily submit print jobs into the print shop workflow .